Scheduling a Telemedicine Visit
Scheduling a telemedicine (either a phone call or video conference) is easy with these three easy steps:
Schedule an appointment with your physician by calling their office during normal business hours. Let the scheduler know that you would prefer a telemedicine visit rather than an in-person appointment.
Visit the telemedicine portal 15 minutes prior to the time of your scheduled appointment to ensure everything is working properly and check in to the virtual waiting room by selecting your physician or provider from the drop down menu.
A member of the team will greet you and collect important information from you. This may include your consent for a telehealth visit, estimated height and weight, current medication list, insurance information, and more. They will then connect you to the provider for your visit.
Frequenty Asked Questions
How can I best prepare for my telemedicine visit?
Like any visit with your doctor, telemedicine works best when you come prepared with an explanation of the problem you are having, a list of questions you'd like to ask, or any concerns that you'd like your physician to address during your time together.
What technology do I need for a telemedicine visit?
Telemedicine involves the use of electronic communications - a smartphone, tablet, or computer with audio and video capability will work best. Most iPhone and Android phones, iPads, and laptops have these capabilities. Make sure you have a strong wifi signal or are connected to the internet via an ethernet cable. You may want to close any unused programs on your phone or internet browser to avoid distractions during the call, as well as update to the latest version of your browser.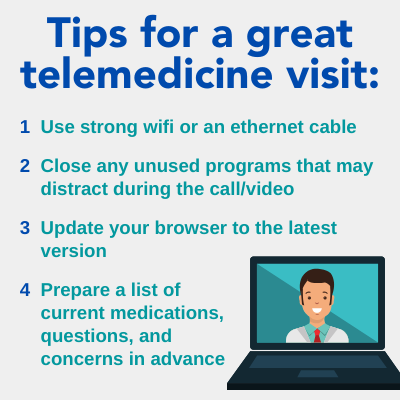 What can I expect during my telemedicine visit?
At the start of the call, you'll be asked to give verbal consent for a telemedicine visit. This consent may include sharing information to be able to make your appointment, get your most current demographic and insurance information and if needed, consent to allow someone to assist with the technology. The information discussed may include your or the patient's medical record, test results and treatment options.
It's important to know that telemedicine services can range widely by specialty. A surgeon, for example, might use telemedicine to do post-operation check-ins with patients to make sure wounds are not infected. An endocrinologist may do live videochats with patients to discuss recent lab results and answer questions. Some patients may want to touch base with their primary care practioner to decide whether they should be tested for COVID-19.
Will I be charged for my visit?
Telemedicine services will be billed to your insurance, medicaid, and/or medicare plan as a regular office visit, therefore copayments and/or deductibles may apply. Again, as the patient, you will be asked to acknowledge your understanding and give verbal consent to schedule, use, and be billed for Lake Cumberland Physician Practices telemedicine services.
---
Telemedicine should not be used for any condition where an in-person exam is required because of severe symptoms, in the case of certain protocol-driven procedures, or aggressive interventions. Also, for a medical emergency patients should go to the ER or call 911.